It's time for Follow Friday hosted by Parajunkee's View!
Our question this week is:
Q: What do you hope to accomplish with your blog? Is it to one day become an author yourself, just for fun, maybe get some online attention, or maybe something very different?
And my answer is pretty lame. My goal is to squee about books to anyone who will listen. I don't do creative writing, so it's really just for fun and to possibly meet other people who are as bookish as I am. :-)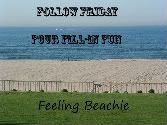 " />
This week's statements:
1. I am very unmotivated lately. And I can't drag myself out of it. HALP!
2. I am most comfy in my pjs on the couch with a book or Grey's Anatomy on.
3. You will never believe what I saw on my way to the bookstore – seriously, this girl looked like a hooker!
4. My mornings don't start until COFFEE happens.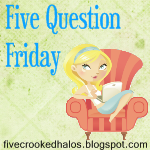 1. What album/cd/download are you embarrassed to admit you have?
I recently acquired the original cast recording of Grease – it's pretty terrible in an epic awesome kinda way.
2. What's the one thing your spouse does better than you?
Make pizza. And take care of plants. That's two, but I gotta give credit where it's due.
3. When do you start buying Halloween Candy?
I am not responsible for Halloween candy around here, but I can tell you it's already started showing up. The boys really get into Halloween.
4. Family closets - Yay or nay?
WTH is a family closet???? The only closet space I am willing to share is the coat closet.
5. Which home/cleaning chore do you hate the most? Why?
Dusting. It's gross and it's never done and it always makes my hands feel funny. Ick!
1. The last thing I ate was Greek yogurt for breakfast. We're adventurous around here, no?
2. The last time I went to the beach was probably girl's weekend years ago when I got sunburn on my butt.
3. My last vacation was Vegas I think. I don't get out much.
4. The last place I drove was Starbucks.
5. The last song I listened to was Psycho by Puddle of Mudd. It's my alarm song.
6. The last thing I watched on TV was Grey's Anatomy. Still addicted.
7. The last time I said "I love you" was this morning.